Cool Roof Coating Systems Chicago
Your roofing is the first, and primary, line of defense between your home and the weather outside. A big part of that defense is keeping the heat and ultraviolet radiation the beats down on your home during the summertime outside where it belongs. Energy Star Cool Roof Coating products reduce the amount of air conditioning needed to keep a building cool and lower overall energy bills by as much as 50%. The Department of Energy's Cool Roof Program is aimed at reducing America's energy usage and defines standards for a wide range of properties that a product must conform to in order to receive the Energy Star seal of approval. These standards include:
Solar Reflectance
3-Year Aged Maintenance of:

Reflectivity – Amount of sun's heat kept off a building.
Emissivity – Amount of sun's heat let out of a building.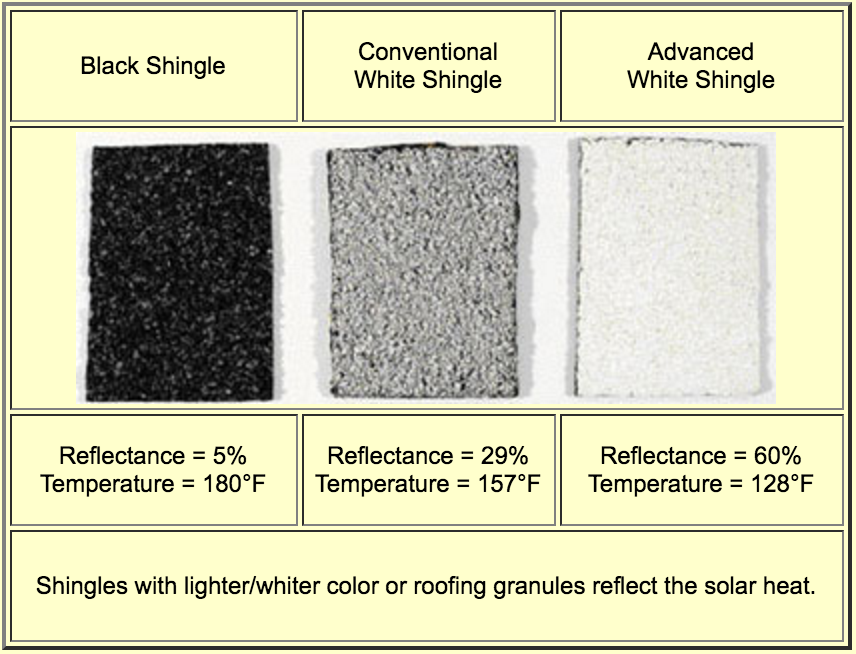 Cool Roof Coatings are usually light in color to facilitate reflecting the sun's rays. Research and strenuous testing has shown, without fail, that lighter colored roof coatings can lower the temperature of your roofing by up to 100° Fahrenheit. The most common coatings used in tandem with sprayed polyurethane foam (SPF) and other roof deck surfaces are white in color and come in the following types:
Acrylic
Silicone
Urethanes
Polyurea
Urban Heat Zones
The term urban heat zone may sound strange, but they're real and they pack a severe punch. An urban heat zone is an area of a city where pavement and steel soak up enormous amounts of heat from the sun during the daytime and when nighttime temperatures do not get low enough to dissipate this heat, it builds and builds day after day. This buildup can create artificial heat waves in cities that cause smog, severe discomfort to residents, and increase overall energy consumption by as much as 200%. Using cool roof coatings helps to stop this cycle by reflecting heat and allowing heat trapped inside to be released through emissivity. Because of the tremendous benefit to using cool roof coatings, many states offer tax incentives to owners that take environmental standards into consideration when having roof work performed. You'll also save money through your reduced energy bills. It's a win-win.
Approvals & Specifications
Even for a seasoned professional, it can be nearly impossible to tell how one coating will outperform others when they're sitting in a pail. You just don't get a feeling for characteristics from a thick, viscous liquid. That's where the industry's own standards for product performance come in extremely handy. These guidelines are the measuring stick we use in the business to differentiate one liquid-applied coating from another. All we have to do as roofers, and you as an owner as well, is look over the label to locate the seal that verifies the product has met the particular guideline in question from a specific testing organization.
The most important standard for home and business owners is the American Society for Testing and Materials (ASTM) D 6083. This is the standard that measures the coating's physical characteristics and specific physical performance under a preset testing condition. The test measures viscosity, elongation, tensile strength, accelerated weathering after 1,000 hours of testing, permeation, water swelling, adhesion, tear strength, and low-temp flexibility. When you find a cool roof coating product that has stood up to this rigorous testing regimen, you'll know you've found an excellent product that will do the job it's advertised to do – guaranteed.
Do you think you might benefit from a cool roof coating applied to your low-slope or flat roof? Are you interested in lowering your energy bills? Why wait another minute? The friendly staff at Chicago Flat Roof Company is ready and available to take your call and answer all your cool roof coating questions. Pick up the phone and call (312) 667-4440 and get started toward your cooler rooftop today.
Get a Cool Roof Coating
Call Today!